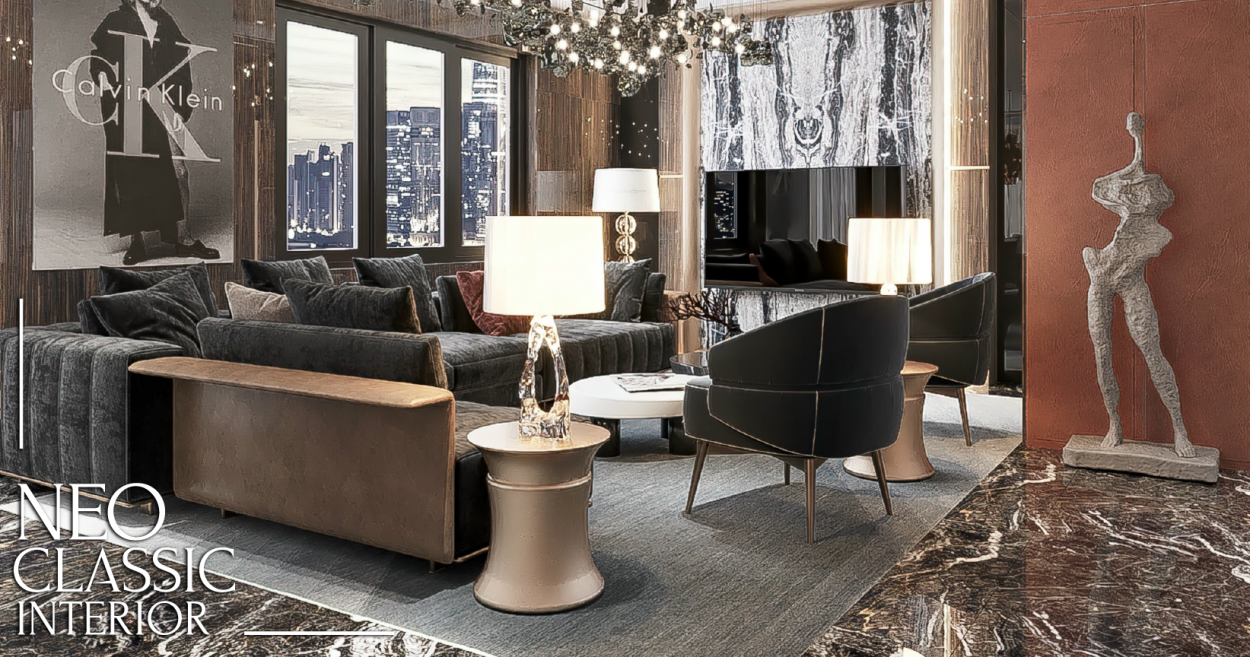 Neo Classic Interior Design is the leading firm in Neo-Classical styled Architecture & Interior Design in Ho Chi Minh city, Vietnam.
Our services include:
Design & Construct Residential Architecture
Design & Construct Residential Interior
Design & Produce Furniture
Our Mission:
" Putting ourselves in homeowners' shoes, Neo Classic leverages our 15+ year of experience in Architecture and Interior Design to continuously seek for the most innovative, luxurious Residential designs. "
Collection of Information
We collect direct information (i) directly from you; (ii) from third parties, and (iii) automatically when you use our site.
In general, we collect the following information:
a. Account and Profile Information: When you create an account on NEO Classic Interior Design, we collect your name, contact information, and other information that you provide. You will also be required to create a profile on the site. If you do so, your profile information such as your name, username, current interests, and projects, demographic information, and any photos you provide may be publicly displayed on social networks. You can customize some of the information displayed publicly in your NEO Classic Interior Design profile by going to your account and profile settings. If you feel that an unauthorized account has been created describing you or your resemblance, please contact us at…. You are obliged to provide us with accurate information.
b. Public Content: We collect and store information that you post on the site, including your photos, comments, ideabooks, and profile information.
c. Communications: When you contact us (via email, phone, via the Website or otherwise), we may maintain a record of your communications (including call records). When you use the NEO Classic Interior Design website to communicate with others, in accordance with applicable law, we may collect and maintain a copy of such information. In addition, NEO Classic Interior Design records phone calls to NEO Classic Interior Design advertisers when you call a phone number listed on their NEO Classic Interior Design profile page. In these cases, we will notify you of a recording call before the call is connected. NEO Classic Interior Design may also allow you to connect when starting with the third-party products and services that you want to contact outside the website; any information you submit or send to a third party in this manner, including your personal email address, is not subject to this Privacy Policy.
d. Transactional Information: If you purchase a product on our site, we collect certain information to process your requests, such as your phone number, address, email, and credit card or bank account information…
e. Site Activity and Automatically Collected Information: We collect and might store information about your use of the site, such as your search activity, the pages you view, and the date and time you visited. visit. We also collect and store information that your computer or mobile device provides us with respect to your use of the Site, such as browser type, computer type, or mobile device, browser language, IP address, mobile carrier, unique device identifier, location, and requested and referring URLs.
f. Linked Networks and Contacts: If you choose to connect NEO Classic Interior Design's profile with a social network or online platforms such as Facebook or Google, you will be asked to enable sharing your contacts with NEO Classic Interior Design. If you agree to this sharing, in order to facilitate the connection, we may send a notice to your contact that you have joined NEO Classic Interior Design so that you and your contacts may find and follow each other on NEO Classic Interior Design Website. You will also be connected to this site as a follower of each other and you can learn more about the people you are familiar with on the site. You can adjust permissions for users to follow your profile in your profile's advanced settings.
Use of Information
We may use the information we collect for purposes such as: providing the functionality of the site; improve the quality of the site; personalize your experience; adjust the content and information that we may send or display to you; offers location customization, personalized help, and recommendations; monitor site usage; facilitate the execution of your orders posted on the site; provide feedback to businesses and professionals whose products or services are listed on the site; process, store and provide your contact information; provide customer service; improve products and services; conduct quality control and anti-spam and fraud activities; display relevant ads (on our site and third party sites); evaluate the success of advertising; provide customer with support; communicate with you about your use of the site and any orders; allow third parties to contact you through the site; meet your inquiries and requirements; send you marketing information and notify you (in ways described by this privacy policy and managed by you in your account settings); back up our system and enable disaster recovery; enhance the security of the site; execute your authorized transactions on the site; use upon your request or consent; and comply with legal obligations.
In addition, we use the information we collect to better understand how users access and use our site and services, both on an aggregated and individual basis, to improve our site and services, meet the needs and preferences of users, develop additional products and services and for other research and analysis purposes. From time to time, we may also provide contests or promotions and will use the information we collect to administer such contests, promotions and surveys, to analyze results for research purposes, and to adhere to the legal requirements related to such contests and promotions.
Sharing Your Information
We do not rent or sell your personal contact information (such as the email address associated with your account registration) to third parties for their own marketing purposes. However, in some cases, NEO Classic Interior Design may allow third parties, including other users and partners of NEO Classic Interior Design, to contact you through the website, including for marketing purposes. In addition, any information that you share publicly through your profile is available to third-party users and visitors to the site; We can not control such third party's use or further disclosure of your additional information. We may share certain information about you with third parties regarding your use of the site. Our sharing of information with third parties generally falls into the following categories and purposes:
a. Agents, Contractors, and Service Providers: We may share your information with our agents, e-commerce partners and contractors or other service providers as necessary to implement the performance and functionality of the site, satisfy your request or authorized commercial transactions, process your payment, or provide customer support.
b. Analytics and Usage: We may share user information in an unspecified or aggregated form, with third parties, such as advertisers, professionals, and other businesses. For example, we may disclose to a business the number of users who have viewed their product. Businesses or professionals participating in NEO Classic Interior Design may also access usage data related to your public profile. For example, businesses may find that you, as defined by your public profile username, any profile picture and any other publicly visible profile identifiers (but not defined by email or your non-public account information), added their product to one of Your Ideabooks on a specific date.
c. Third Party Ad Networks: We use third-party advertising companies to serve ads on third-party sites and may work with them to serve ads on our Site as well as help us evaluate the effectiveness of our advertising, in accordance with applicable law. These companies use cookies, web beacons and other tracking technologies to collect information (not including your name, address, email address or phone number) about your visit to this site and other sites so as to provide ads targeted to you. Please see the third-party ads section below for more information.
d. Affiliated Entities: We may share information from or about you with our subsidiaries, joint ventures or other companies which are under common control, in this case, we will ask them to respect our privacy policy.
e. Business Transfers: If we are acquired or merged with another entity, if most of our assets are remarkably transferred to another company, or as part of a bankruptcy proceeding, we may transfer the information we've collected about you to another company. We may also disclose some personal information to a company as part of a plan or review for a larger merger, acquisition or transfer of assets.
f. Other Users: The public information you post on the site (for example, your photo, comment, profile) will be publicly available to other users of NEO Classic Interior Design. The information you post on the site is for public purposes, including your photos, comments, ideabooks, and profile information. By posting to the site, you have given permission to us to publicly disclose material posted by you.
g. Investigations: We may investigate and disclose information about you, as permitted by applicable law, if we believe such investigations or disclosures are (a) necessary to comply with legal process and law enforcement instructions and orders, such as a search warrant, subpoena, statute, judicial proceeding, or other legal process served on us; (b) useful to prevent, investigate, or identify possible missteps related to the Site; or (c) useful to protect our rights, reputation, property, or that of our users, our subsidiaries, or the public.
NEO Classic Interior Design Communications
When you participate in the NEO Classic Interior Design by signing up for an account or creating a profile, you will receive a newsletter from NEO Classic Interior Design about the services and features of the site. By law, you are also choosing to receive other emails from us that you may be interested in as members of the NEO Classic Interior Design community. We may also ask you to agree to receive written communications from us. You can manage your email preferences and alerts in your account settings, but note that you can not opt out of receiving certain legal administrative notices from us. If you choose not to receive an email for suggestions or other information we think you may be interested in, we may still be able to send you transactional e-mails about your account or any of our services. that you request or receive from us. However, you may opt out entirely of any text message – transactional or otherwise – from us.
In addition, by participating, you agree to receive feedback and contact information from third parties within the Site, including third-party providers of products or services that may comment on your posts on your site. If you do not want third parties to see that information, you should not post any of it on your profile or website.
Cookies and Other Tracking Technologies
We, and the third parties we interact with, including our third-party service providers, use cookies related to your use of third-party websites and websites. (Cookies are small data files that may have unique identifiers and reside among other places on your computer or mobile device, in emails we send to you and on our site. We also use the web beacons for the same purposes on our site, and in the HTML email for our customers (for example, to help us track e-mail responses (known as "flash cookies"), java scripts, log files and similar technologies (along with cookies and web beacons, collectively referred to as "cookies" in this policy) for tracking and analyzing usage of website and facilitates ads on our site and third-party sites.
We may use cookies to collect or transmit information about you and your use of websites or third-party websites, such as browser type, search preferences, data related to the ad was shown to you or you clicked on your interests on our site and other sites, and your date and time of use. When we use cookies, we do so for additional features and processes of the site, providing endorsement and security for your transactions on the Site, storing your preferences, facilitate relevant advertising and help us learn more about how users interact with the Site and understand your activities after you leave our site. Our cookies can be persistent or archived in a single session.
You can opt out of third-party tracking for certain advertising purposes (as discussed) that can help you control the ads targeted by third parties that track your activity. you on the site. It is possible to disable certain cookies on your device or browser settings. The method of disabling cookies may vary by device and browser, but can often be found in security options or settings. However, doing so may affect your ability to use the Site. If you do not feel comfortable using the cookie above, please do not use this site.
Do-Not-Track signal. Please note that we do not change the behavior of the system on the site to meet non-tracking browser requirements. However, you can disable certain tracking as discussed in this section (for example, by turning off cookies or opt-out of ad networks).
Third-party Analytics. We also use automated devices and applications, such as Google Analytics, to evaluate our use of the Site and the services we provide; you can opt out of Google Analytics and review your privacy policy here. We use these tools to collect non-personal information about our users to help us improve service, performance, and user experience. These analytics vendors may use cookies to perform their services and may combine the information they collect about you on our site with other information they collect. This policy does not cover the use of third-party data.
Third Party Advertising
As noted, we work with third parties such as network advertisers to serve ads on third-party sites or other media and evaluate the success of our advertising campaigns. We, including Facebook, Google, and others (both Facebook and Google provide an additional opt-out of certain advertising activities and maintain their privacy policies for the settlement of advertising services based on their hobby). We may also work with third parties to display ads on our site.
Third party ad network providers, advertisers, sponsors, and/or traffic measurement services may use cookies, JavaScript, web beacons (including explicit GIFs), Flash LSO and other tracking technologies to measure the effectiveness of their ads and to personalize your ad content. This allows us and these third parties to target advertisements to you for products and services that you may be interested in, based on your activities on our site and pages and other websites. Third-party cookies and other technologies are governed by the privacy policies of individual third parties, not the rule. We may provide these third-party advertisers with information about our members or allow them to collect certain information through our Site (e.g., IP address and demographic information), but we do not disclose your name, contact information, or other personally identifying information.
You can also manage multiple opt-outs of behavioral targeting ads from multiple companies through consumer-driven tools created under self-regulatory programs in multiple countries, like the aboutads.info choices page based in the United States or the UE-based http://www.youronlinechoices.com.
Opting out of one or more of the companies listed on the respective opt-out pages mentioned above will choose whether or not you opt out of the content distribution or interest-based ads of those companies. Based on your activities on many sites but that does not mean you will no longer receive any ads through our website or on other websites. You can continue to receive ads, for example, based on the specific site you are viewing (i.e. contextually-targeted ads). Also, if your browsers are configured to decline cookies, or you later delete your cookies, your opt-out may not be effective. Additional information is available on the websites listed above.
Plug-ins and Social Media Widgets
Our site may include social media features and gadgets, such as the Facebook Like button and the "Share this" button, as well as other small interactive programs that run on the Site and Services and on third-party sites and allow some of the features to work (e.g. blogs and comments). These features may collect your IP address, the page you are visiting, and may set a cookie to allow this feature to function properly and for other purposes. When these features are displayed on our Site and are hosted by third parties, and must comply with their privacy policy, not this one. Your interactions with these features are governed by the privacy policies of the company that provides them.
Third Party Profile Pages and Websites
Third-party businesses, such as the home or e-commerce merchants, can maintain a profile page on the NEO Classic Interior Design, and we may host websites that use NEO Classic Interior Design for businesses to use. Our website design products. These businesses and NEO Classic Interior Design may collect certain information, including your contact information, sent through the profile pages and this site. NEO Classic Interior Design's use of the information we collect is governed by this Privacy Policy, but the use of any information collected by third parties or submitted by you through NEO Classic Interior Design adheres to their own policies and practices, not this privacy policy.
Choice and Access to Your Personal Information
You have certain choices about how to control the data, including publicly displayed profile information, contact settings, network links, and removal of third-party tracking for certain advertising purposes. These options are described throughout this Privacy Policy in the relevant sections. In addition, you can modify any account information you submit by signing in to your account and updating your profile information. Please note that copies of the information you have updated, modified or deleted may continue to reside in our system for a period of time and we may maintain copies as part our business records.
Account Termination and Data Retention
You can close your account at any time by going to your account settings. Once you deactivate your account, you will stop providing ongoing or future data to us. Your public profile will be disabled. However, posts or comments you provide to the Site prior to closing your account will be public, unless prohibited by applicable law. We may also store information about you for purposes authorized under this privacy policy, including a copy of your account information as part of our business profile, unless is prohibited by law.
Children
This site is for general audiences and is not intended for children under the age of 13. We do not obtain personal information from children under the age of 13. If you know that a child has provided us with personal information without parental consent, please contact and we will take steps to remove his/her information and terminate the child's account.
Security
We have implemented safeguards to protect the personal information which is sent to us, both during transmission and when we receive it. However, there is no way of transmitting it over the Internet or through a mobile device or electronic storage method, which is 100% safe – so we can not guarantee absolute security. You should also take certain steps to protect your account and personal information, such as by choosing a strong password and keeping it private and sign out of your account when you're done using it.
Links to Other Sites
Our website contains links to other websites that we do not control. Please note that we are not responsible for the privacy policies of other websites. We encourage you to pay attention when you leave our site and read the privacy policies of each and every page you visit. This Privacy Policy only applies to information collected by our site.
Modifications and Updates to this Privacy Policy
We will revise this Privacy Policy from every once in a while. The most current version of the Privacy Policy will govern the use of our information about you and will be located here:
If we make a material change to this privacy policy, we may notify you by email or by posting a notice on the Site. By continuing to access or use the Site after these changes take effect, you agree to be bound by the revised privacy policy.